Home / Google Chrome always redirects to random website? Solution is here!




Recently, I noticed this strange behavior of my Google chrome browser. Every time i type a keyword on the address bar, an extra search bar above the google search always appear. (See the image above)
I did the "inspect element" and noticed that this extra searchbar html code appeared below the iframe which is hosted on clients5.google.com/pagead/drt/dn
Other than that... everytime i visit a website upon clicking any part of the web page, it redirects me to random websites.
I tried resetting the browser settings but it don''t work. obviously this random redirects is caused by a malware.
I scanned my computer using avast and it detects an unknown MBR Malware but failed to removed it.
According to Google, MBR (Master Boot Record) malware is stored outside the Windows operating system folder.
You won''t see it on windows registry editor
Therefore, it is quite hard to remove it by your bare hand.
This MBR based malware also runs on startup thus, every time the computer starts the malware will load itself.
I also tried avast''s MBR rootkit scanner which can be found here --> http://public.avast.com/~gmerek/aswMBR.htm, and fortunately it works and easily removed it. After that, i do not experience the random website redirects anymore.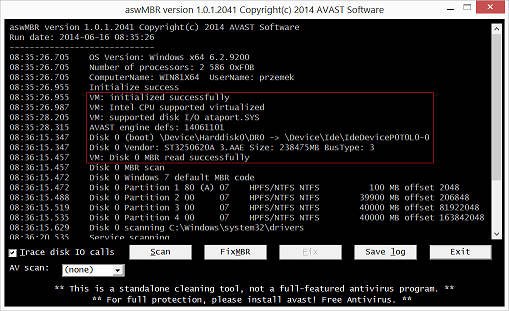 (c) Images taken from aswMBR site
Disclaimer: Please take note that my infected computer runs on Windows 7 (64 bit). I cannot guarantee that this MBR rootkit scanner will also work on your machine.